Programs and Services
Smoking Cessation
The classes are offered at various times during the year. For more information about the classes you can call our office (812)384-4496.
The Health Department does offer Nicotine patches and gum for FREE after you are enrolled in one of the classes.
You may also contact the INDIANA QUIT LINE AT (800)-QUIT-NOW.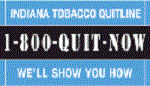 Disease Prevention/Treatment
We have all information available on all topics upon request. We also have limited quantity of FREE head lice treatment and you need to call prior to obtaining.
For all your disease/infection questions and concerns go to www.cdc.com and www.iac.com.
FREE Services
We are happy to provide the County with the following FREE services:
Blood pressure and vital signs check/special monitoring.
Accuchecks (blood sugars).
Weights (all ages, adult and children).
Please visit our office for more information.